Soft Lines Inc. -
5/8" Round Hands Free Dog Leashes (Polypropylene)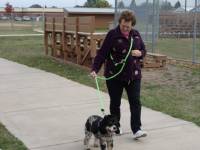 Soft Lines arthritic and handicap friendly 5/8 inch round hands free leashes for Dogs are made from multifilament polypropylene rope making these dog leashes extremely soft and more flexible than Nylon leashes, and have a great hand feel and are easy to grip for arthritic and handicap persons. Multifilament polypropylene hands free leashes are water resistant and will not rot or mildew. Along with its high yield strength, the rope has just the right amount of stretch woven into it for your dogs activities.
These 5/8 inch round Dog hands free leashes are available in different lengths of 8 ft., 10 ft., 15 ft., 20 ft., 30 ft. and many colors and include FREE personalization and Custom Labeling. Custom lengths and configurations are available by request. Click here for Wholesale Inquiries.
All Soft Lines arthritic and handicap friendly dog leashes are Made In America (Wisconsin).
This category is empty.
---
More About
5/8" Round Hands Free Dog Leashes (Polypropylene)
Other Arthritic and Handicap Friendly Dog Leashes and Leads: