Soft Lines Inc. -
Floating Fishing Rod & Reel Safety Lines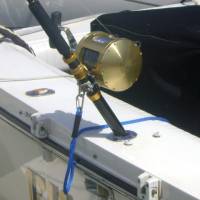 The perfect safety accessory for bait casting reels, spinning rods and reels, and salt water trolling reels. The trolling reel safety lines from SoftLines are available in many different colors and are manufactured from multi-filament polypropylene rope which makes them softer and more flexible than nylon lines or nylon webbing tethers.
Protect your rod and reel investment with the reel safety line built with high quality stainless steel hardware. The reel safety line features a 9" cleat loop on one end and a stainless steel spring hook on the other end. You can customize and personalize your reel safety line for FREE with our online options. These rod and reel safety lines have excellent qualities for both offshore salt water deep sea fishing as well as inland fresh water lake fishing.
If you have any special needs for your trolling reel safety line please Contact us directly for customized polypropylene safety lines.
Browse Floating Fishing Rod & Reel Safety Lines
Products
---
More About
Floating Fishing Rod & Reel Safety Lines
Rod and Reel Safety Line Features:
Made from multi-filament polypropylene rope
Floats in the water
Softer than a nylon rod and reel safety line
These safety lines are soft, flexible, and easy to grip
Stays soft and pliable even in cold conditions
This custom woven safety line has built in stretch
Will not splinter or sliver like a nylon reel safety line
Releases knots easier than nylon or cotton safety straps or lines
Strong hand sewn webbing connections
FREE to personalize such as Boat name, company name, logo etc.
Customized lengths are available upon request
Other Other Boat Lines and Straps:
Serving the sportfishing community with your boat line needs such as: